Some selected sites
Sérgio Prata Garcia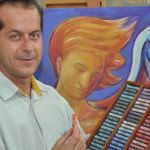 Sérgio Prata Garcia is a Brazilian sculptor, draftsman, painter and engraver. Former student of the National School of Fine Arts in Paris, where he specializes in painting techniques, human figure drawing and fresco painting, he returned to Brazil in 1986.
In addition to his artistic activities, he teaches the techniques of painting, the composition of works of art, artistic anatomy and drawing of the human figure and is the author of five books, a multimedia CD-Rom and a video, in which he shares his artistic and technical knowledge.
He is currently one of the few Brazilian artists to use the thousand-year-old fresco technique, as it was used in Renaissance times. He divides his time between paintings on canvas, icons, murals in churches and also receives students in his workshop.
He is the inventor of triphasic painting, in which three drawings are superimposed, one visible by day, the second in the dark thanks to phosphorescent pigments and the third visible to ultraviolet rays, thanks to fluorescent pigments.
Sérgio presents his work on his personal website available here.
His triphasic paintings are presented here.
The original site, in Portuguese, is available here.
Danièle Fuchs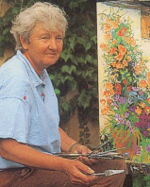 Danièle Fuchs is a painter, designer, lithographer, engraver and illustrator from Viroflay, a contemporary of Georges Jamet.
Born May 16, 1931 in Paris, she was admitted to the Ecole des Beaux-Arts in Paris in 1952.
Lthe same year, she participated in the creation of the first Salon d'Art of Viroflay ("Souvenir de Corot"), of which she became secretary in 1954, a position she held for 30 years.
In 1976, she was named Honorary Citizen of Viroflay.
She makes many exhibitions throughout France, but also abroad, United States, Canada, Germany, Belgium, Japan, China, India, Iran.
She died on May 15, 2013 in Viroflay.
A site in his memory (in French only), presenting numerous works by the artist is available here.
A Wikipedia article (in French) is also dedicated to her.
Hervé Jamet
Hervé Jamet is the son of Georges. He digitized his father's paintings and photographs to develop this site.
He also maintains a personal website available here.